Aggressor state and jurisdictional immunities: how to make it pay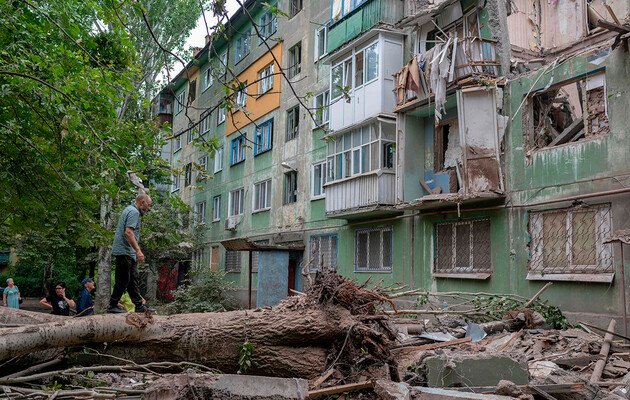 © Getty Images
There is a solution and it's obvious
article by Oleksandr Vodiannikov, D. in Law, National Legal Advisor to the OSCE Project Coordinator in Ukraine
To hold the aggressor liable, and not only morally, but also pecuniary for damage inflicted is the main objective of the offensive on the legal battlefield. Ukraine has already launched it via both state authorities and private initiatives. One of the strongest bulwarks of the enemy is sovereign immunity under international and national law which makes it impossible to foreclose funds and property of a foreign state. 
However, a wise commander will not rush his soldiers into a frontal attack on fortifications, but will instead assess their condition and look for the possibility of a maneuver. It seems that the UN Charter itself offers the path of optimal assault.  
Sovereign immunities: what's it all about 
All states being independent and equal may not be subject to the jurisdiction of other states without their consent. This principle is enshrined in Ukrainian legislation as well. Namely Art. 79 of the Law of Ukraine "On International Private Law" allows suing a foreign state, foreclosing its property, or doing other things only upon consent of such state competent authorities. Provided, certainly, otherwise is not envisaged in an international treaty of Ukraine or a law of Ukraine. 
The majority of states adhere as Ukraine to the concept of absolute jurisdictional immunity. In several states (e.g. the US, the UK, and Canada) legislation limits immunities of foreign states to defined categories of cases (so-called functional immunity). Such cases include commercial transactions, labor disputes, and tort liability for damage caused on the territory of the state of the court. In no cases where a foreign state acts as a sovereign power, its actions may be contested before a national court.  
However, limiting immunities in Ukraine will not help hold the aggressor liable before Ukrainian courts for damage already inflicted. When the Ukrainian Parliament approves such a measure, it will not have a retroactive effect, i.e. will not be applicable to damage already caused during the aggression, as retroactivity is expressis verbis prohibited by the Ukrainian Constitution. Even more, the very concept of limited (functional) immunity does not encompass military actions. Art. 31 of the 1972 European Convention on State Immunity excludes from its ambit and thus makes it absolute any immunities or privileges in respect of anything done or omitted to be done by, or in relation to, the state's armed forces when on the territory of another state. 
Unfortunately, international law contains no rule requiring limited (functional) immunities. Both international conventions purporting to govern this issue – the UN Convention on Jurisdictional Immunities of States and Their Property (2004) and the European Convention on State Immunity (1972) – have never entered into force, as states are hesitant to sign and ratify them. 
No guidance is provided in the case law. The ICJ in its 2012 judgment in the Jurisdictional Immunities of the State Case (Germany v. Italy) point out that whether a State was entitled to immunity before the courts of another State was a question entirely separate from whether the international responsibility of that State was engaged and whether it had an obligation to make reparation (para. 100 of the judgment).
ECHR case law recognizes only two categories of cases where jurisdictional immunity shall be deemed contrary to the fair trial right – labor disputes and commercial transactions. In other cases, such immunities have been deemed legitimate. The ECHR has declared inadmissible claims for compensation for the failure of peacekeeping forces during heinous events in Srebrenica (see Stichting Mothers of Srebrenica and Others v. the Netherlands (dec.), 2013).
To sum up, there are no exceptions allowing disregarding sovereign immunities of a foreign state in cases of damage committed on the territory of another state by its armed forces during the war.
Ukrainian Supreme Court's position: emotio v. ratio 
In April and May of this year, the first shots were fired by the Civil Court of Cassation of the Supreme Court (hereinafter referred to as the Supreme Court). Judgment of April 14, 2022, in case No. 308/9708/19 of the Supreme Court removed the foreign state immunity in domestic courts in cases of compensation for damage caused to an individual, his or her property, health, and life as a result of the armed aggression of the Russian Federation. An important argument runs: "Since 2014, there is no need to send requests to the Russian Embassy in Ukraine regarding the consent of the Russian Federation to be a defendant in cases of compensation for damages in connection with the Russian Federation's armed aggression against Ukraine and violation of the sovereignty and territorial integrity of the Ukrainian state. As of February 24, 2022, such requests are impossible due to termination of diplomatic relations between Ukraine and the Russian Federation."
The Supreme Court referred to the European Convention on State Immunity (1972) and the UN Convention on Jurisdictional Immunities of States and Their Property (2004). Though Ukraine does not take part in either of these conventions, the Supreme Court opined that they "reflect the tendency of international law development". The Supreme Court further invoked Oleynikov v. Russia (2013) and Cudak v. Lithuania (2010) where the ECHR recognized the existence of customary international rules related to limiting sovereign immunity in cases of commercial transactions and labor disputes. 
A few weeks later, on 18 May 2022, the Supreme Court adopted another judgment (No. 760/17232/20) where it structured its reasoning dismissing sovereign immunity along the following lines: 
application of the RF's sovereign immunity would deprive the claimant of effective access to a court in a manner inconsistent with Art. 6(1) of the European Convention on the Protection of Human Rights and Fundamental Freedoms;

the RF's jurisdictional immunity was not applicable under the customary international law as codified in the UN Convention on Jurisdictional Immunities of States and Their Property (2004);

application of the RF's immunity would be inconsistent with international commitments of Ukraine in the area of combatting terrorism;

the RF's sovereign immunity should not be enforced because the RF violates Ukraine's sovereignty – aggression could not be deemed an exercise of RF's sovereign rights that are the subject matter of jurisdictional immunity safeguards.  
This position is morally valid but the reasoning advanced is weak even if viewed from the Ukrainian law's perspective. This is so because: 
the ECHR does not consider the unavailability of alternative remedy as ipso facto inconsistent with Art. 6 of the Convention (Stichting Mothers of Srebrenica and Others v. the Netherlands (dec.), 2013);

the Supreme Court failed to take into account that international customary law has no standing in the legal system of Ukraine and is not a source of law – only international treaties are deemed part of national law. Neither procedural codes nor other statutory enactments give authority to a national court to apply international custom; 

the Council of Europe Convention on the Prevention of Terrorism deals with legal responsibility for terrorist crime, i.e. criminalization of certain acts and liability of subjects of national law. Its ratione personae does not encompass foreign states. The same goes well for the International Convention for the Suppression of the Financing of Terrorism; 

denial of immunity based on RF's aggression and illegal occupation of Ukraine's territories in violation of fundamental principles and rules of international law and qualification of armed aggression of a foreign state as not constituting realization of sovereign rights is not in line with ICJ position (see para. 60 of the ICJ judgment in the Jurisdictional Immunity of the State Case) 
What is no less important is that jurisdictional immunities are owed vis-à-vis all states. Ukrainian court may not discretionally cancel immunity of one state, as equality of all subjects of international law shall be respected. 
These judgments of the Supreme Court are of no help. If a Ukrainian court following this line of argumentation adopts a compensation judgment against the aggressor state, other states however compassionate they may be towards Ukraine, will not be able to recognize and enforce it.  
A detour 
If international law exonerates acts or omissions of a foreign state's armed forces committed during an armed conflict from the reach of national courts and no exception is provided, then it may be more prudent to look at possibilities to derogate from international commitments.  
Indeed, there are such grounds, including self-defense and countermeasures taken with respect to the internationally wrongful act. These grounds can be invoked as long as relevant circumstances exist. These rules have been codified in the Articles on Responsibility of States for Internationally Wrongful Acts (2001) approved by the UN General Assembly.
On 24 February 2022, the RF launched military aggression against Ukraine. Legal qualification of this heinous act is given by the UN General Assembly Resolution ES-11/1 of 2 March 2022 whereby this act of the Russian Federation is declared military aggression by the Russian Federation against Ukraine in violation of Article 2 (4) of the UN Charter. This resolution was passed under the extraordinary Uniting for Peace procedure, initiated by the UN Security Council when this principal body of the UN is unable to reach a decision due to misuse of the veto power of either of its permanent members. 
Art. 2(4) of the UN Charter (prohibition of the threat or use of force) enshrines the peremptory norm of international law that is accepted by the international community of states as a norm from which no derogation is permitted. Art. 51 of the UN Charter contains the only exemption from this norm (as the use of force under the UN Security Council authorization does not fall under the ambit of Art. 2(4) as in such case it is the UN who uses force and not the states as such), recognizing the inherent right of individual self-defense. Act of aggression is the ground to deploy all lawful measures for a state to defend itself. Ukraine now is in the state of individual self-defense in the meaning of Art. 51 of the UN Charter. 
The right of self-defense allows for lawful derogation from any international commitments and rules of international law, except for jus cogens norms. Sovereign immunity therefore can be derogated. Under Ar. 21 of the Articles on State Responsibility wrongfulness of an act of a State is precluded if the act constitutes a lawful measure of self-defense taken in conformity with the Charter of the United Nations. In other words, Art. 51 of the UN Charter which recognizes the inherent right of self-defense should be interpreted as a ground to derogate from international legal rules vis-à-vis the aggressor state as well as to impose countermeasures in response. Self-defense in international law thus constitutes both exception and justification of non-compliance.  
International law permits recourse to any lawful measures of self-defense and countermeasures in case of aggression or use of force during the period until such breach is brought to an end. Lawful countermeasures are aimed at minimizing damage and restitution of a legal situation that existed before the breach of international law, their objective is to safeguard the effectiveness of the peremptory norm prohibiting threat or use of force as enshrined in Art. 2(4) of the UN Charter. 
Practical implications  
Referral to Art. 51 of the UN Charter in judicial reasoning can solve the non-retroactivity conundrum of legislatively ordained restrictions on sovereign immunity (which is yet to be adopted) – national courts under this approach would apply already existing rule of law that has been valid when the act of illegal aggression was committed. In addition, national courts could abstain from enforcing the absolute immunity rule of Art. 79 of the Law of Ukraine "On International Private Law" (still in force and not amended) and apply the rule of superior order – the said provision of the UN Charter, i.e. of the international treaty. 
To interpret and apply Art. 2(4) and Art. 51 of the UN Charter a national court in Ukraine should be guided by Art. 31 of the Vienna Convention on the Law of Treaties which requires, inter alia, to take into account any relevant rules of international law applicable in the relations between the parties (Art. 31(3)(c) of the Convention). Such relevant rules include general principles of international law and international customary law in the area of state responsibility for internationally wrongful acts as codified in the Articles of State Responsibility. 
As early as 1928 the Permanent Court of International Justice (ICJ's predecessor) made it clear that "it is a principle of international law, and even a general conception of law, that any breach of an engagement involves an obligation to make reparation… Reparation is the indispensable complement of a failure to apply a convention, and there is no necessity for this to be stated in the convention itself". Therefore the national court can rely on this indispensable component of international engagement – compensation for damage inflicted by the breach and restitution of the legal situation that existed before the breach of international law. And the general aim of such countermeasure should be safeguarding the effectiveness of the UN Charter Art. 2(4) peremptory norm prohibiting threat or use of force. 
Sun Tzu in his opus magnum wrote "Wheels of justice grind slow but grind fine". The art of legal war is peculiar. The choice of methods, tactics, and strategy is of particular importance here: a mistake, haste, emotions even at the initial stage, or neglect of details - all this arms the enemy. The big battles of this legal war have not yet begun, so it is worth carefully preparing for them.
Read this article by Oleksandr Vodiannikov in russian and Ukrainian.
Noticed an error?
Please select it with the mouse and press Ctrl+Enter or Submit a bug
Stay up to date with the latest developments!
Subscribe to our channel in Telegram
Follow on Telegram