Take Care Of The Holiday: How To Become Saint Nicholas For The Children Of Fallen Defenders Of Ukraine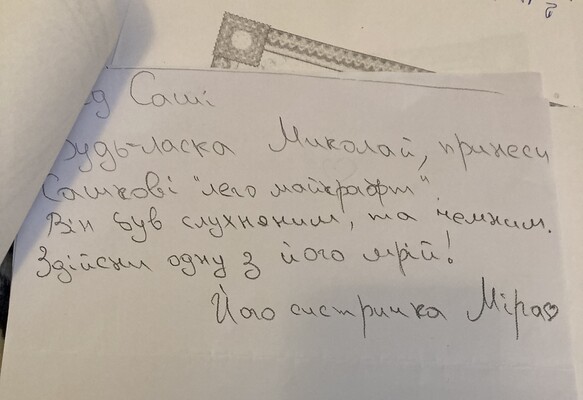 © Anton Senenko/Facebook
By tradition, children in Ukraine receive gifts on St. Nicholas Day. It is believed that the saint brings goodies and toys to the well behaved children, and the disobedient ones get sticks or coal. Saint Nicholas became the prototype of Santa Claus, and the gifts on this day are similar to those that children in the United States receive at Christmas.
The Narodnyi Tyl (People's Rear) – Rehabilitation charitable fund traditionally buys gifts for the children of fallen Ukrainian defenders before St. Nicholas Day (this year the date is December 6 following the transition to the new Julian calendar). Everyone can join this cause and contribute to to the small dreams coming true.
"Every year we buy gifts for the children of the fallen on St. Nicholas Day. Those are the gifts they wish for and dream about.
Although they dream that their father or mother… ahhh, damn, you get the idea.
We don't collect funds – we donate money by ourselves.
We don't help widows or widowers, we don't show pity for families, we don't evaluate their well-being, we don't decide for others, we don't ask, we don't push for pity, we don't talk about "it's our duty" and we don't post pictures – we just give children gifts .
As people do it," Martyn Brest wrote on Facebook.
Anton Senenko described how the process of processing letters to St. Nicholas takes place:
"I know for sure how it will be.
A specially trained person (although this is not taught anywhere) will open a large envelope and take out a stack of papers.
On the first page there will be some official information, the number of the brigade, the title of the person in charge or the phone number.
Does not matter.
On the second - a piece of paper from a notebook, colored paper or, on the contrary, a perfect starch-white sheet where it will be written in not very even letters, which are sometimes difficult to understand:
"Good day. My name is Matvii. This year I behaved well and obeyed my mother. And I want a car wash and signs."
or
"My name is Snizhana, I'm 6 years old and I want a book about dragons."
or
"I'm from Sasha. Bring Sasha Lego minecraft. He was polite and obedient. Make one of his dreams come true!
His sister Mira."
Each of these sheets will be followed by the next one.
Death certificate. Surname. Name. Patronymic name. Date of birth. Date of death. Place of death.
Then this educated person, who has never been taught this, will begin to enter the following in one of the thousands (thousands!) of lines: Matthew – car wash and signs. a book about dragons for Snizhana. Sasha – Lego Minecraft.
Ivan, Olha, Kateryna, Philip, Anton, Ira, Fedir, Tolik.
PS4 game, toy car, power bank, kigurumi, fluffy toy, flashlight, Shadow and Bone book, telescope.
Then, separately, a committee of specially trained people, who have never been taught this anywhere, will find out what kigurumi is at a strategic meeting.
Or a toy shell.
Or another kind of interactive toy.
Or a bunch of other words that are understandable only in children's language.
I don't know what this person does after filling out the final line, but last time I was torn apart.
I don't drink alcohol and maybe that's my problem.
You see... it is impossible to read letters to St. Nicholas from the children of men and women who will never come home.
This is beyond my capabilities, strength, endurance and emotional stability."
Banking details for Misters and Misses St.Nicholas
PayPal spbakhvalova@gmail.com 
Bank Transfer
Name of recipient: Charitable organization Charitable Fund NARODNYI TYL – REHABILITATION (НАРОДНИЙ ТИЛ - РЕАБІЛІТАЦІЯ)
Recipient code: 42742131
Recipient's account: UA603052990000026004016218164
Name of the bank: JSC CB "PRIVATBANK"
Purpose: Non-refundable charitable assistance.
PrivatBank card
4149 4993 7101 6518
Monobank
Link to monobank donation source 
Noticed an error?
Please select it with the mouse and press Ctrl+Enter or Submit a bug
Stay up to date with the latest developments!
Subscribe to our channel in Telegram
Follow on Telegram